Cisco Email Security offers high availability email protection against the constant, dynamic, rapidly changing threats affecting email today.
Industry-Leading Email Protection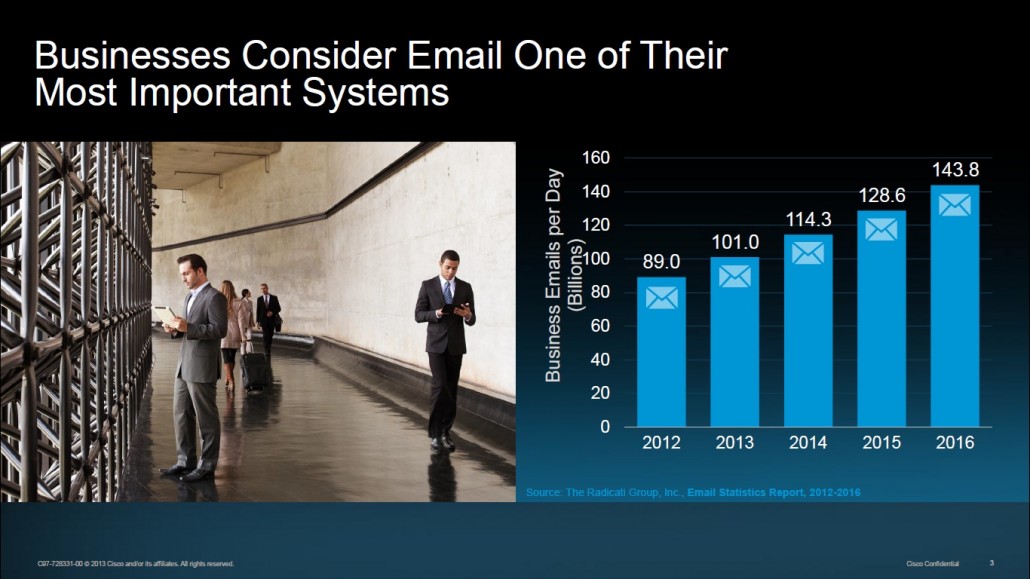 Keep your critical business email safe from spam, malware, and other threats. Our industry-leading solution gives you faster, more complete email protection to stop email-based threats and provide continuous protection before, during, and after an attack.
Features and Capabilities
Industry-Leading Performance
Cisco ESA offers:
The capability to quickly block new email-based blended attacks
Best-in-class capability to control or encrypt sensitive outbound email
A superior spam capture rate (more than 99 percent) and few false positives (less than one in one million)
The industry's first proven zero-hour antivirus solution
Investment Value
Cisco ESA provides:
Easy installation and management
Low network impact
Less ongoing administration
10 JD Powers award-winning security support centers globally, with 24-hour support
Continuous Innovation
Demonstrated commitment to email security investment and innovation
Flexible deployments: on-premises, cloud, hybrid, and virtual deployments
Superior ability to scale threat analysis as global data explodes
Real-Time Threat Intelligence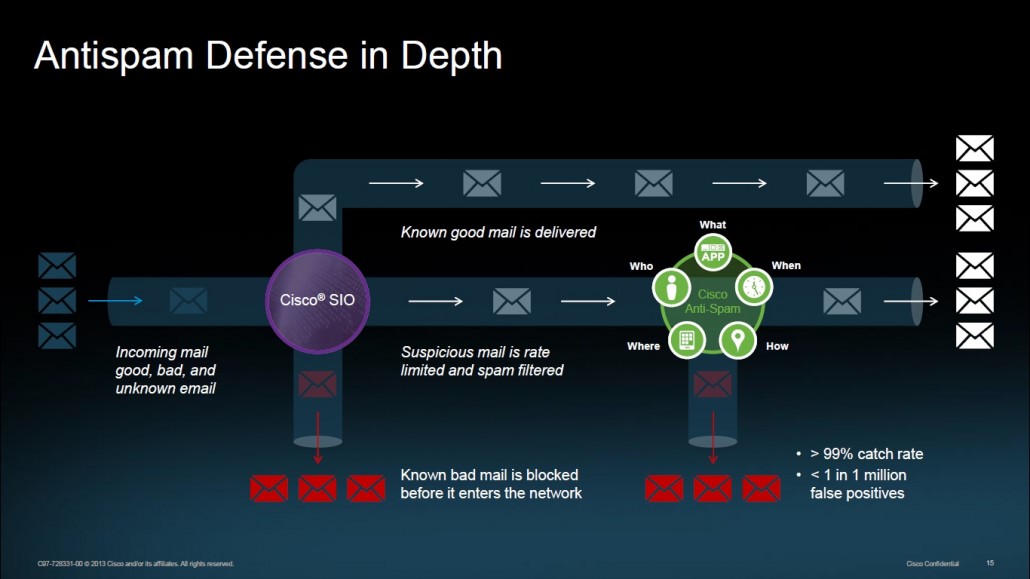 The Cisco Email Security Appliance (ESA) is powered by the Cisco Talos Security Intelligence and Research Group (Talos). Its threat intelligence detects, analyzes, and protects against both known and emerging threats. It accomplishes this by aggregating and analyzing Cisco's extensive telemetry data including:
Billions of web requests and emails
Millions of malware samples
Open source data sets
Millions of network intrusions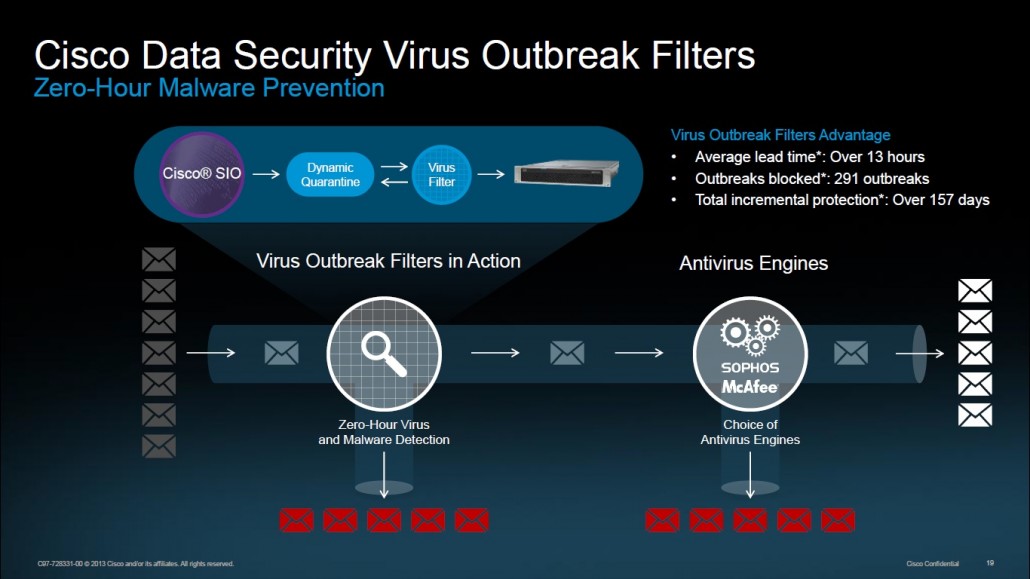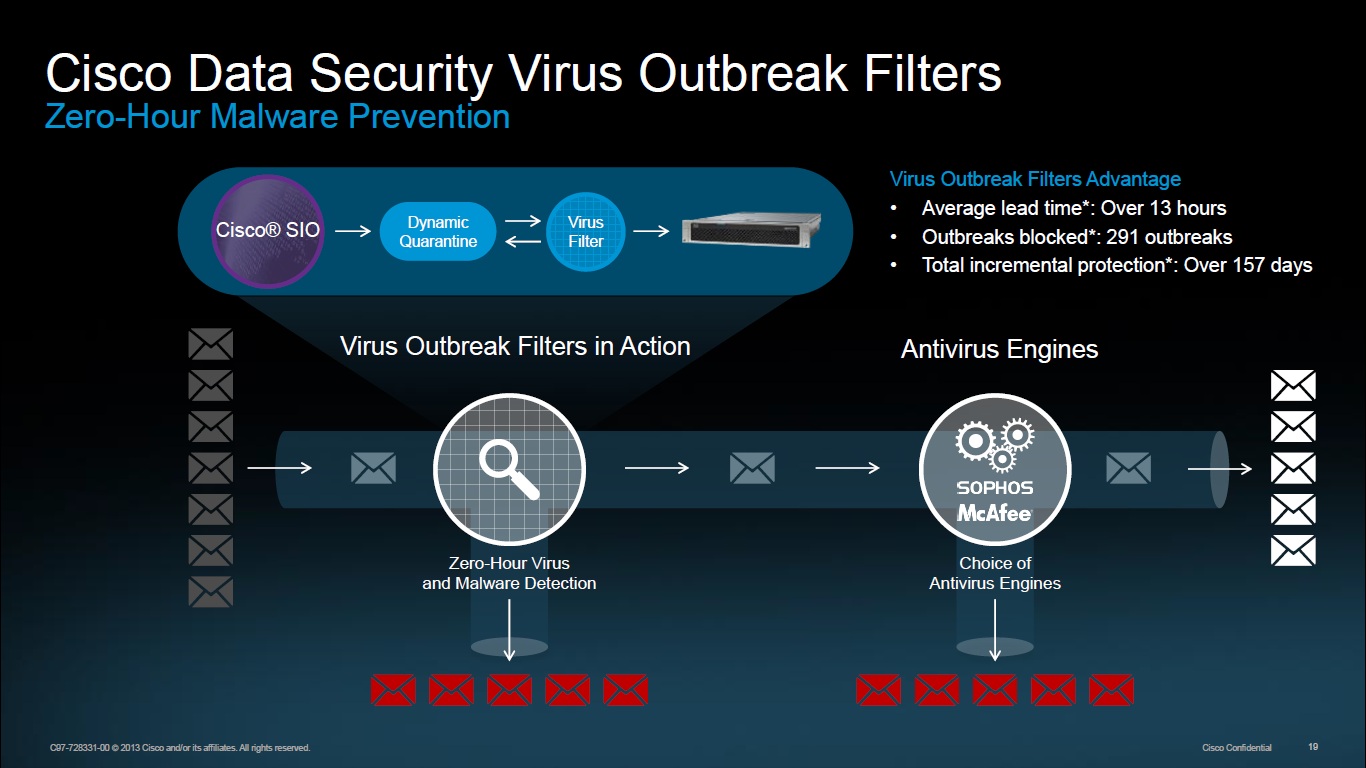 Talos offers a holistic understanding of threats, their root causes, and scopes of outbreaks. Cisco Email Security products are dynamically updated with this information every 3-5 minutes, resulting in superior email protection.
On-premise vs. Cloud Email Security
Cisco Email Security Appliances
Appliances come ready to plug-in on premises, in the right size for your environment
Defend mission-critical email systems at the gateway to minimize downtime
Outbound defense with Data Loss Prevention (DLP) integration with RSA, plus email encryption
Each model built on the same comprehensive platform that protects email infrastructures of major Forbes Global 2000 companies
Cisco Cloud Email Security
Reliable, all-inclusive service with software, computing power, and support
Cost-effective cloud-based solution that reduces your onsite data center footprint
Dedicated email security instances in multiple, resilient Cisco data centers promote exceptional service availability and data protection
When sensitive data needs to remain physically on-premises, the hybrid solution delivers advanced control on-site while taking advantage of cost-effective convenience of the cloud
Cisco Content Security Management Appliances
Unified email and web security management to centralize and consolidate policy and runtime data
Central platform and single management interface for all reporting and auditing
Appliances come ready to plug-in and install in the right size for your environment
Simplify the administration of corporate mail systems and secure web gateways