Panasas, Inc., the leader in high-performance scale-out NAS storage solutions, enables enterprise customers to rapidly solve complex computing problems, speed innovation and bring new products to market faster. All Panasas solutions leverage the patented PanFS™ storage operating system to deliver exceptional performance, scalability and manageability. Panasas systems are optimized for demanding storage environments in the energy, government, finance, manufacturing, bioscience and higher education industries.
Panasas Architecture
The architecture of the PAS family of scale-out NAS systems is comprised of modular building blocks, and aggregates capacity and performance in a linearly-scalable system. All Panasas products leverage the patentedPanFS™ storage operating system to deliver exceptional performance, scalability and manageability. The architecture provides a single pool of storage with distributed and balanced I/O paths eliminating performance bottlenecks.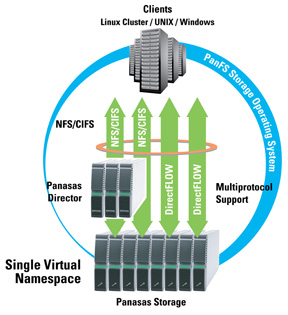 System Hardware
The PAS hardware architecture is based on a scalable, modular appliance approach utilizing state of the art hardware components that facilitate easy growth, performance and redundancy. PAS systems are configured in fully self-contained shelves that can be expanded within a rack or multiple racks to support virtually any capacity and performance requirement. Each shelf is comprised of Director Blades which orchestrate file system activity and a series of Storage Blades that contain all application and user data, handling 90% of file system activity. Panasas hardware components are perfectly tuned to work together and deliver outstanding performance from the PanFSOperating Environment. This allows seamless installation and management, as well as accelerated time to results with near linear scaling in performance and capacity.
Shelf/Switch
The Panasas System Shelf and integrated Gigabit Ethernet Switch Blade provide an enterprise-class foundation optimized for simple scalability and reliability. Up to eleven Storage Blade modules and Director Blade modules can be mixed and matched within a single shelf. The 16-port Gigabit Ethernet Switch Blade optimizes I/O scalability by providing line-rate switching between the blades and the data center switches.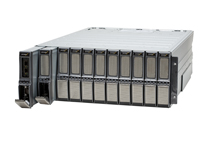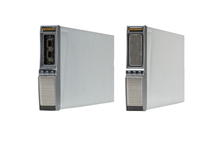 Panasas Modules contain 11 blade modules. Shelves can be configured with up to DirectorBlade modules (providing metadata services) and StorageBlade modules (providing intelligent data storage).
Storage Blade Module
Panasas Storage Blade modules are the hardware foundation of the system. Storage Blade modules contain all application and user data, handling 90% of file system activity. As a result, Panasas Scale-Out NAS delivers near linear scaling of performance with increases in capacity. Storage Blade modules are configured with Director Blade modules to meet the demands of each specific application environment.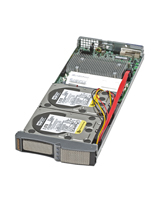 Director Blade Module
Panasas Director Blade modules uniquely orchestrate file system activity while leaving the data path free to optimize application throughput. This design helps speed data transfers and facilitates better scalability. In addition, Director Blade modules virtualize data objects across all available Storage Blade modules enabling the system to be viewed as a single, easily managed namespace. Director Blade modules will automatically cluster together to support highly scalable storage networks.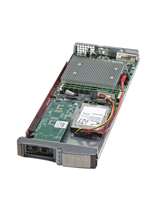 Software
PAS User Interface
Part of the PanFS Operating Environment, the PAS system user interface is designed to proactively display all critical system information and allow quick navigation to make any alterations. Through the "System-At-A-Glance" page, users can view a range of status details on the system, including overall system state, error messages, capacity and disk utilization, throughput and response time. The PAS system user interface allows administrators to tailor configurations by dividing them into virtual volumes that can be assigned with quotas to certain projects, users, or applications. These volumes are extremely easy to create, assign privileges and manage. However, if preferred, one volume for the entire system can be created. Customers can also enable a phone-home feature that notifies both Panasas and your system administrators of critical issues to allow preventive maintenance to occur.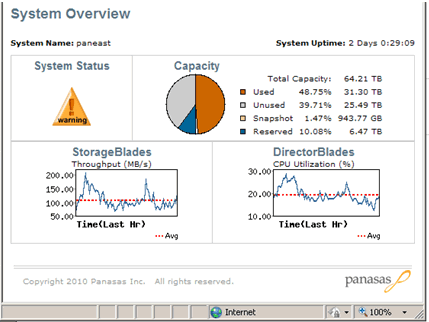 Network Protocols
Panasas PAS systems offer multiple network protocols to support customer's different applications and users.  For high performance Linux clusters, DirectFlow provides unmatched performance due to Panasas parallel processing capabilities, and also provides high performance for Unix and Windows users/applications.
DirectFLOW
The DirectFLOW client allows high performance compute clusters to access storage directly and in parallel, providing very high performance and scalability. DirectFLOW distributes the system metadata workload throughout the entire PAS system allowing shared file access and blazing speed without the performance bottlenecks typically encountered in traditional NAS systems.
NFS & CIFS
In addition to the DirectFLOW protocol for Linux servers, the PAS family supports scalable random I/O application needs through UNIX NFS and Windows CIFS data access protocols. By supporting these standard file access protocols, Panasas Scale-Out NAS seamlessly integrates into existing infrastructure to accelerate return on investment.
PanFS has the ability to support all three data access protocols – DirectFlow, NFS and CIFS – simultaneously. Multiple clients can access the Panasas Scale-Out NAS using the protocol required by that client. This delivers an unprecedented level of flexibility to optimize the utilization of the storage system.
End-to-End Data Integrity
Only Panasas includes RAID data protection as a component of its file system which removes cost and single points of failure. System-managed parallel rebuilds mitigate the risk of successive drive failures by providing the industry's fastest rebuild times which actually decrease as the size of the storage pool increases. Panasas uniquely permits different RAID configurations for different data files, even within the same volume and storage pool. This allows users to tune performance and reliability characteristics on a file-by-file basis to satisfy data protection requirements of specific storage environments.
RAID Implementation

Benefit

System intelligently assigns RAID levels based on size
Automatic transitioning from RAID 1 to RAID 5 without re-striping

Per File RAID

High performance file reconstruction (vs. drive sector reconstruction)
Rebuild in hours
Parallel rebuild – all blade sets participate in RAID rebuilds

Horizontal (Blade) and Vertical (Disk)
Parity RAID

RAID within the individual drive as well as across drives
Improves internal ECC capabilities
Predicatively solves media errors
Significantly lowers drive failure probability
Product Line
Panasas® ActiveStor™ 12: Panasas® ActiveStor™ 12 brings appliance-like plug-and-play simplicity to large scale storage deployments. It provides industry-leading performance and unrivaled performance per gigabyte for complex business-critical applications. This fourth generation Panasas storage blade system more than doubles performance over the previous generation product, going from 600MB/s to a stunning 1.5GB/s per chassis.   …more
Panasas® ActiveStor™ 11: ActiveStor™ 11 brings plug-and-play simplicity to large scale, high performance storage deployments. It provides compelling, balanced performance and capacity scalability for highly demanding technical computing applications and Big Data workloads in the energy, government, finance, manufacturing, bioscience, and other core research and development sectors. This fourth generation storage blade system pushes performance to 950MB/s. …more
For more information
Please visit https://www.panasas.com/ or contact us by phone at 02-210-0969 , by email at info@throughwave.co.th