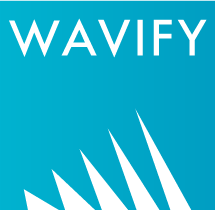 Wavify, Inc. offers A virtual jigsaw of powerful stand-alone and clustered components, forming secured, scalable messaging and collaboration infrastructures for enterprises and service providers. Our products include appliance based messaging/collaboration and regulatory compliance products designed to increase the reliability, performance, and security of customer infrastructure. Wavify's next generation platform; maximizes investments in existing infrastructure; simplifies service deployment and management; and keeps the enterprise infrastructure evolving in non-disruptive manner.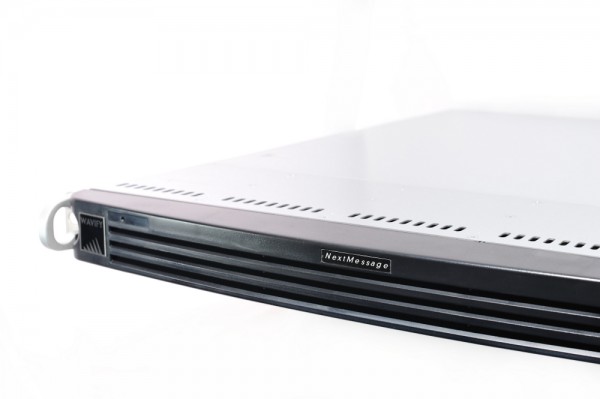 Wavify NextMessage – Email Appliance for 500 – 40,000 Users
NextMessage is the premier messaging system designed for the most demanding environment. While delivering exceptional scaling capability and performance, NextMessage is also intuitive and easy to use. The solution comes ready with the collaboration system to boost communication productivity. In addition, the built-in archiving empowers NextMessage to be compliant with the most stringent standards such SoX, SEC or HIPAA.
In today's competitive and fast paced world, your workforce is doing their best to multi-task while focusing on the core business needs. NextMessage is a powerful yet simple to use tool to help your workforce work efficiently and smartly. Let the experts at Wavify show you how NextMessage is the right choice to get more messaging performance while reducing total cost of ownership.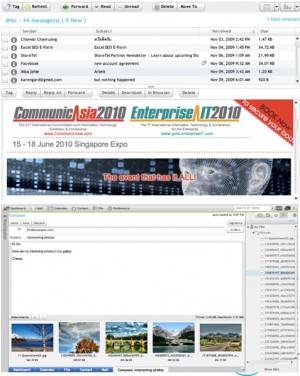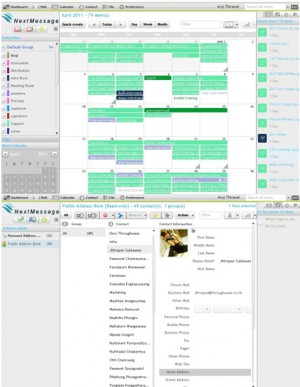 Convenience
To Deploy, Manage and Use
From business owners, IT personnels, system administrators, to end users, NextMessage solutions bring convenience to all.
Fast deployment
Easy, yet powerful web-based administration
Intuitive client GUI
Power of desktop vs. availability web based
SmartView, smarter way to work
Find everything in no time
Access information when offline

Collaboration
Boost Organization Productivity
Through innovative functionality, NextMessage helps you access e-mails, contacts, calendars, tasks, feeds, and online files more efficiently. These items can be shared among team and collaborated more easily.
TrueShare collaboration
Resource based calendar with scheduling assistant
Manageable contacts

Competency
With Total Messaging Solution
Everything you need to enable secured electronic messaging capability for your organization is found in NextMessage. It is a cost-effective and scalable solution for enterprises that require high-performance, carrier-grade services.
High Performance
High Reliability
High Scalability
Rock Solid Security
Robust Virus and Spam Protection
Wavify NextMessage Datasheet
Wavify NextMessage: Premier Messaging Appliance with E-mail, Contact, Calendar, File Sharing that supports from 500 to unlimited users. Wavify NextMessage Datasheet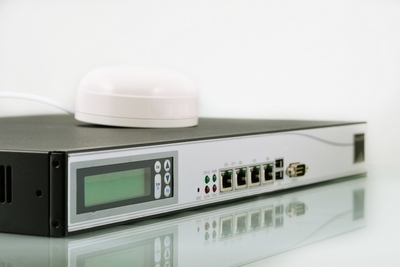 Wavify TimeNX – NTP Appliance for Enterprise and ISP
Virtualization infrastructure need precision timing. Time NX is a virtualization ready stratum-1 network time protocol appliance with nano-second clock accuracy. With optional internal Rubidium clock, Time NX can keep nano-second accuracy upto 72 hours without syncing to any other time source. Delivering reliable network based time for enterprise network security application, virtual service provider infrastructure, and research facility.
Wavify TimeNX appliance is designed to be the precision network time protocol service for enterprise IT and telecommunications networks. The GPS based appliance enables atomic clock accuracy throughout enterprise network.
Everything is Included
Wavify takes this concept a little further. TimeNX comes ready to use, from secured performance-tuned hardware to ready to use stratum-1 NTP. Easy web GUI provide comprehensive management and reporting tools for simplified management.
Hold-over Hardware Atomic Clock
Wavify TimeNX can be ordered with optional integrated high accuracy atomic based clock (Rubidium time source) that can hold accuracy at the nanosecond level upto 72 hours.
Ready for Enterprise Network
Wavify TimeNX can concurrerntly support thousands of network devices with upto 8,000 NTP requests per second. The appliance come with integrtaed gigabit port that has been tuned and guarantee precision timing. All the ports can be aggregate to provide the required level of scalability with maximum performance upto 8,000 NTP requests per second.
Wavify TimeNX Datasheet
For more information
Please visit https://www.wavify.com or contact us by phone at 02-210-0969 , by email at info@throughwave.co.th