Array Networks Inc. is a global leader in enterprise secure application delivery and universal access solutions for the rapidly growing SSL VPN and application delivery controller (ADC) markets. More than 5,000 customers worldwide – including enterprises, service providers, government and vertical organizations in healthcare, finance, insurance and education – rely on Array to provide anytime, anywhere secure and optimized application access. Industry leaders including Deloitte, Red Herring, Gartner, and Frost and Sullivan have recognized Array as a market and technology leader.
Cloud Application Delivery Controller Solutions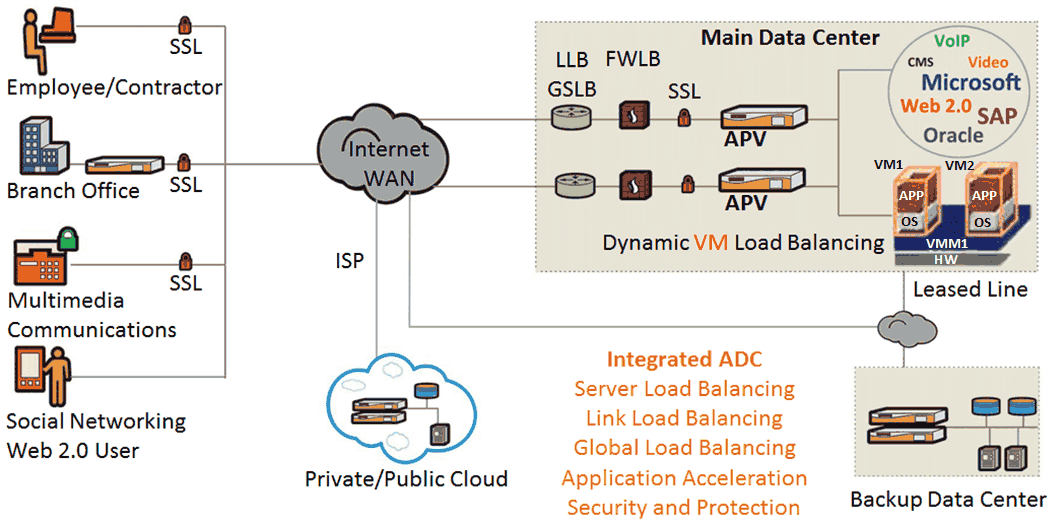 APV enhances cloud virtual and physical server deployments. For cloud computing environments, application reliability and availability need to be ensured in order to fully take advantage of both physical and virtual server infrastructure. In doing so, the benefits of reduced CAPEX and OPEX can be achieved. The advantages of cloud computing when coupled with applications that are delivered fast, secure and reliable will only be achieved with the deployment of cloud Application Delivery Controllers (ADCs) that optimize and accelerate applications to remote users. Clouds can be highly-complex datacenters that deal with high-traffic demands and need to handle cloud application delivery efficiently. They require high-performance and high-intelligence for delivering applications to remote and mobile users.
Array's APV provides improved cloud service delivery models for cloud-based datacenters with the flexibility to scale server resources based on real-time traffic demands, while providing the application acceleration, high-availability and security they require.
APV brings application reliability and acceleration to cloud computing
APV is designed for fast, intelligent and scalable acceleration for demanding applications and traffic aggregation necessary for cloud computing. Maintaining high levels of performance with multiple, concurrent features enabled, APV offers 10 Gbps+ traffic aggregation, supports millions of TCP connections at Layer 4, processes thousands of Layer 7 requests, and offloads hundreds of thousands of SSL transactions from servers.
APV helps overcome server bottlenecks and network congestion. Offloading servers allows cloud operators to handle more traffic, while squeezing more traffic into WAN links provides the most effective use of the available bandwidth. Service providers and enterprises are able to support a greater number of users and deliver more applications, without having to add servers and bandwidth. APV speeds datacenter server responses and optimizes WAN traffic from the datacenter to remote users accessing enterprise applications and content.
Network Disaster Recovery for Cloud Service Delivery and Deployments
AVP's link load balancing and failover capabilities deliver one of the most important technologies in solving the problem of reliability for cloud connectivity by directing traffic to the best performing network links. Should one link become inaccessible due to a bottleneck or outage, the APV takes that link out of cloud service delivery and automatically directs network traffic to other functioning links. This process is virtually seamless to the user.
Global Server Load Balancing for Distributed Cloud Sites
Cloud operators need fast, reliable and secure access for business-critical applications. Having application infrastructure at a single geographic location can be problematic, as this limits availability and capacity for application and server resources, slows the performance of servers, and congests all traffic into a single network connection. Cloud-based datacenter availability challenges are impacted by natural disasters such as earthquakes, hurricanes, power outages, human error and equipment failure. APVs global load balancing transparently redirects users away from failed sites by continuously monitoring site and server health.
APV – Cloud Application Delivery Service Management and Reporting
APV offers both a familiar CLI and an intuitive Web user interface that can easily be customized to create streamlined, integrated management systems. The intuitive GUI makes it a breeze to configure advanced layer 4 and 7 application and security policies. The advanced GUI provides in-depth information into application flows and customized graphs based on the application type. APV allows cloud-based datacenters to build QoS-traffic shaping rules on a per-virtual service basis for improved network visibility. Monitoring the APV is made simple with SNMP-based monitoring tools. With support for XML-RPC, a range of third-party applications can be used to automate management tasks.
Universal Secure Access: SSL-VPN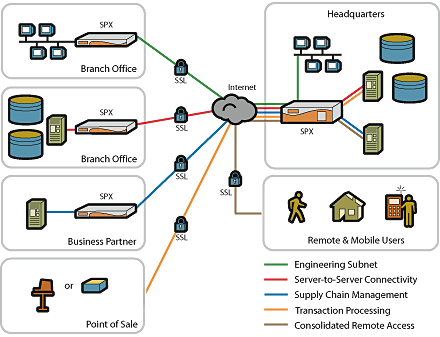 Array's application networking technology and extensible product platform greatly improve end-user, administrator, and infrastructure productivity. Array's Universal Secure Access Controller solutions give enterprises and service providers fast and secure delivery of any application to authorized users, anywhere in the world, over any device.
Today, many industries and enterprises are looking to simplify and optimize business operations. Array's high-performance technology is the first step towards achieving that goal. Designed to solve real-world business and organization problems, Array's solutions can dramatically increase employee productivity and business agility while streamlining network management and delivering dramatic cost savings.
Universal Secure Access – On-Demand
By providing secure, on-demand accesses both internally and remotely, Array's business solutions seamlessly connect employees with the applications and information they need to drive productivity and profitability. Better still, the inherent flexibility of the Array architecture means that Array solutions can quickly and easily adapt to meet the specific access requirements of any organization.
Today, Array is providing powerful and efficient universal secure access solutions for a wide range of customers—from small, local businesses to large, global enterprises, in everything from financial services and healthcare to government and education. Whatever you access and security challenges you can be confident that Array can solve them.
DesktopDirect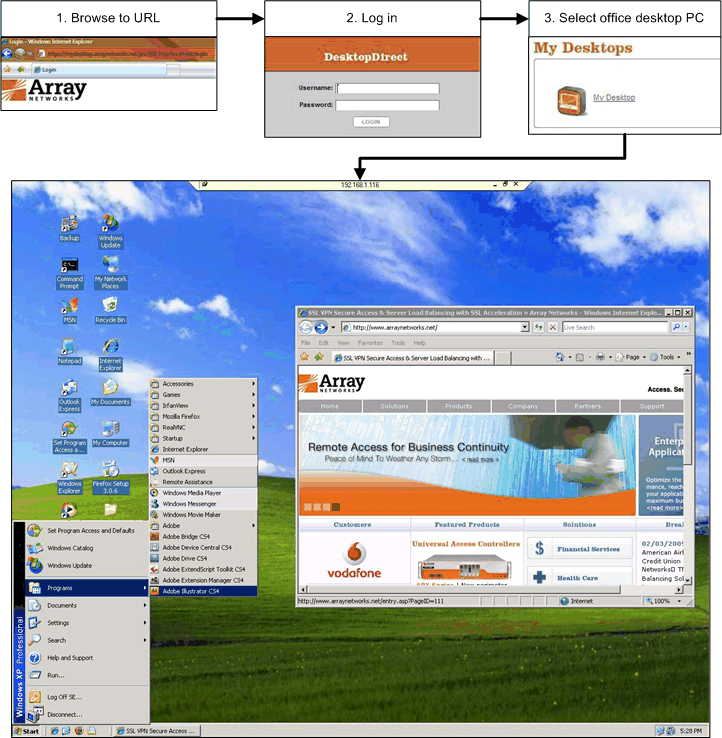 DesktopDirect uses existing technology standards to provide direct access to office desktop PCs (both virtual and physical), via the award-winning Array Networks DesktopDirect Edition SPX appliance.
Data Leakage Prevention
With DesktopDirect, data never actually leaves the corporate network. DesktopDirect seamlessly extends compliance already established on desktop computers to the remote location – thus no new effort is required on the part of IT to maintain compliance. Its on-premise architecture enables full control for IT administrators, including viewing and termination of sessions in real-time. All DesktopDirect deployments eliminate data leakage by transmitting only keyboard / video / mouse control data to the remote location. DesktopDirect is also available in a FIPS-compliant package to meet more stringent security requirements.
Optimization for WAN Performance
DesktopDirect requires very little bandwidth and is built to operate over relatively high-latency links, thus making it the perfect solution for Internet-based communications. No additional WAN optimization is required.
Mobile Computing
DesktopDirect enhances mobile productivity for Apple iPad and iPhone users, who can easily download the DesktopDirect iPad and/or iPhone client apps to gain full-featured access to Windows-based applications on their office computers.
Product Line
For more information
Please visit https://www.arraynetworks.net/ or contact us by phone at 02-210-0969 , by email at info@throughwave.co.th